Head to the northern Napa Valley to experience Calistoga's best wineries, restaurants, and spas.
Nothing could be finer than to be in Calistoga for the weekend. A town of about 5,200 at the northern tip of the Napa Valley, Calistoga contains famous wineries like the Castello di Amorosa and Chateau Montelena, along with the Solage luxury resort and the Four Seasons Resort and Residences Napa Valley across the street. This mellow town's real delights, though, lie in its smaller wineries, inns, spas, and restaurants. Lincoln Avenue, Calistoga's main street, is also worth a stroll during your stay.
Known for its mud baths and geothermal waters, Calistoga caught the attention of pioneering entrepreneur Sam Brannan, who made his original fortune during the Gold Rush era—he was reportedly California's first millionaire. The town's name derives from Brannan's 1860s declaration that he intended to turn the area into the "Calistoga of Sarafornia" when he meant to say the Saratoga of California, referring to Saratoga Springs, the then and still popular New York State spa destination. You can learn about Calistoga's 19th-century heyday at the Sharpsteen Museum, started by Ben Sharpsteen, a longtime director, producer, and animator who worked on such Walt Disney classics as Snow White and the Seven Dwarfs, Pinocchio, and Fantasia. The museum's centerpiece is its 30-foot diorama of 1860s Calistoga.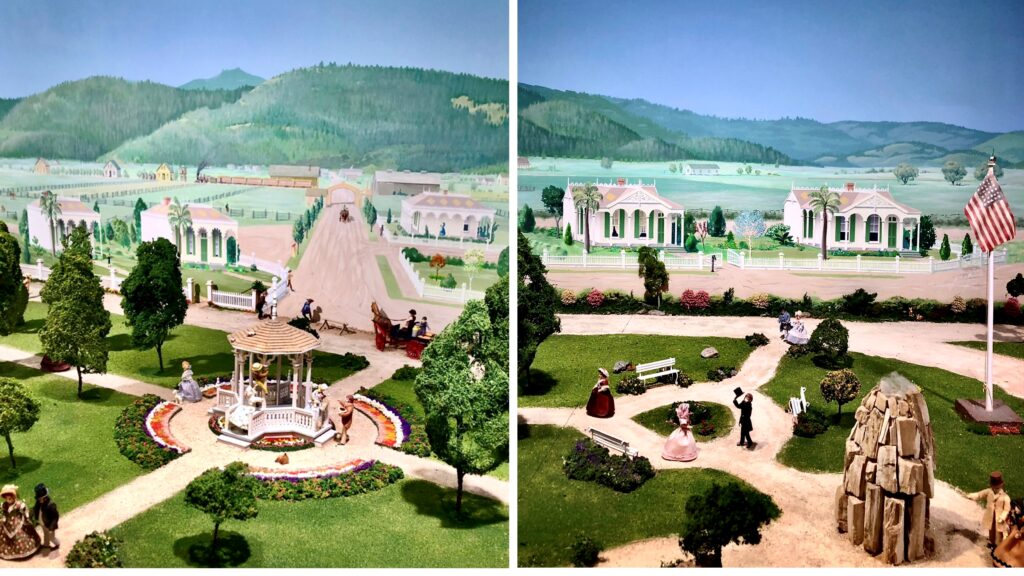 Brannan kickstarted Calistoga's development but lost his fortune along the way. Time, though, has proved he had the right idea. With options that range from lavish to workaday, this remains a top Wine Country choice for spa relaxation.
Below are recommendations for a weekend getaway to this northern Napa Valley gem.
Pre-trip to-do list:
1) Book your lodging (suggestions below).
2) Most  wineries require reservations. Although some accommodate walk-ins, it's best to book a day or more ahead on weekends.
3) Make reservations for Friday and Saturday dinner. Ditto for Sunday morning if you'll be brunching at Lovina.
Get Going
Friday
From 3 pm
Settle in: Check into your lodging and get settled. Begin your exploration of Calistoga wines at one of downtown's Lincoln Avenue tasting rooms. Romeo Vineyards & Cellars, Picayune Cellars, CAMi Vineyards, and August Briggs Winery are all good choices, as is Lola Wines, a block south of Lincoln on Foothill Boulevard/Highway 29. If you'd prefer a cocktail, head to Sam's Social Club. The Calistoga Inn has its own brewery (Friday's happy hour ends at 6).
7 pm
Dinner: Dine downtown at Evangeline, a California take on a New Orleans bistro. If the weather's nice, dine on the outdoor patio.
9 pm
Nightcap: Have a Sazerac nightcap at Evangeline or head over to Solbar at Solage for a Sex in the Valley or other specialty cocktail.
Saturday
8:30 am
Breakfast: If breakfast isn't included in your room rate, get the day going at Café Sarafornia, a cheery diner locals love as much as the tourists. The cooks here whip up eggs 18 different ways, plus blintzes, French toast, and many other items.
9:30 am (or a hair later)
Tasting: Start the morning with a tasting at Chateau Montelena, where you'll learn a little Calistoga and Wine Country history. Founded in 1882, the winery is renowned these days for its Chardonnay's first-place finish at the 1976 Judgment of Paris tasting and a star turn in Bottle Shock, the 2008 film about that event. The Chateau Montelena, which opens at 9:30, early for these parts, also makes good Riesling, Zinfandel, and Cabernet Sauvignon, among other varietals. Be sure to stroll the landscaped grounds and shore of the property's lake before heading to your next stop.
Alternative: Casual Bennett Lane Winery, which specializes in Cabernet Sauvignon and other Bordeaux-style reds, opens at 10 am. It touts its tasting room as one of the Napa Valley's friendliest…and it's true.
11:30 am
Tasting and tour: Make a reservation at Theorem Vineyards or Davis Estates. Both offer engaging experiences.
Theorem Vineyards: Thomas Rivers Brown, a renowned consultant, set the house style at this hillside winery in the Diamond Mountain District appellation. Some tastings involve wines excellently paired with cuisine by Napa Valley Heritage Catering, whose chef, Josh Mitchell, worked in several high-profile valley restaurants before striking out on his own.    
Davis Estates: Cabernet Sauvignon and Bordeaux-style red blends headline at Davis Estates, but several other types of wines, either from estate-grown grapes or ones from top producers, are also made here. Gargantuan porch swings with views west across the Napa Valley overlook the front vineyard. The Estate Wine & Food Pairing includes current releases and small bites.
Alternatives: Both of these tastings are expensive, with Theorem's in particular geared to serious wine buyers. For a more casual experience, visit Tedeschi Family Winery, a fun stop with affordable well-made wines.
1:30 pm
Lunch: Swing over to Picobar, the Solage resort's poolside restaurant, for a light lunch – fish tacos, perhaps. You'll shortly be having a spa treatment and will feel more comfortable if your stomach's not too full.
3:30 pm
Spa treatment: Here's your chance to discover what Calistoga's vaunted mud baths are all about. Depending on the spa, you can combine a mud session with a soak in a mineral tub, time in the steam room, or sometimes both, and extend your relaxation with a short or long massage. Below are a few favorites:
Indian Springs Calistoga is the top choice for a traditional mud bath in its thick brew of geothermal water and volcanic ash, all from the property.
Solage takes a subtler approach at its chic spa. The signature "Mudslide" treatment begins with patrons spending time in a steam room slathered with French clay and concludes with a session in a vibrating sound chair. Check with the property for the current offerings.
Baths at Roman Spa mixes volcanic ash with peat for a less gloppy feeling. This workaday spa has slightly lower prices than the above facilities. You may not feel as pampered, but you'll likely emerge relaxed.
5:30 pm
Hang out: After your treatment, hang out at your spa or lodging. If dining at Solbar or Auro, arrive early for a well-made cocktail.
7:30 pm
Dinner: Several choices here, depending on your mood and culinary preference. Making a reservation is a good idea, especially during summer and early fall.
Solbar, the Solage resort's restaurant, and Auro, the lead restaurant at the Four Seasons Napa Valley, are the night's splurges.
Lovina is an option if you won't be brunching here on Sunday morning (see below). The chefs at this downtown bungalow craft homey yet accomplished American dishes. For idiosyncratic Italian, try Bricco Osteria or Mangia Mi.
Sunday
9 am
Breakfast: If you aren't having breakfast at your lodging, consider having brunch at smallish Lovina. The house mimosa gets its kick from seasonal fruit sorbet and Lillet blanc aperitif. Menu choices range from French toast and egg dishes to salads and the Croque Lovina, made from roasted heritage pork. Sam's Social Club serves all the breakfast regulars.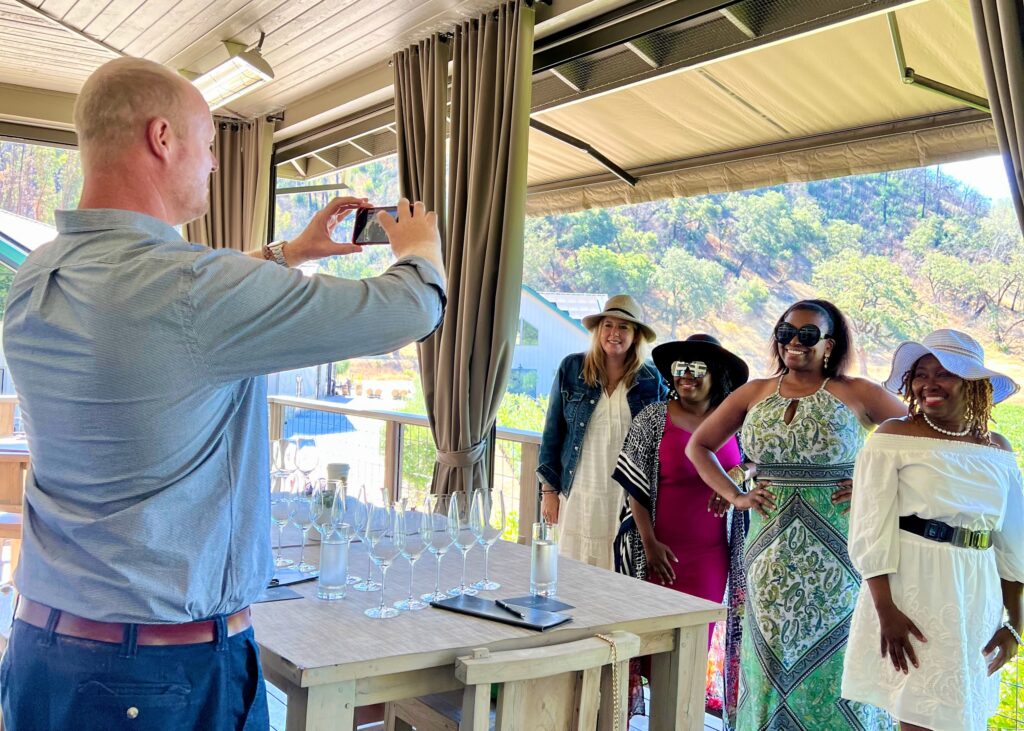 11 am
Tasting: Kirk Venge (pronounced ven-ghee) ranks among the Napa Valley's most sought-after winemaking consultants. Find out why at Venge Vineyards, his laid-back Calistoga estate and winery. You can taste Cabernets from grapes grown on-site and elsewhere in the Napa Valley, along with Zinfandel, Syrah, Merlot, and a few others. Venge receives only a handful of visitors a day, so book ahead as far as possible. You must have an appointment to visit.
Alternatives: If you can't get an appointment at Venge, family-owned Brian Arden Wines and Tamber Bey are good options.
1 pm
Tasting: Your 48 hours are almost up, and we're thinking that, post-brunch, you're not quite ready to eat, so slip over to Vincent Arroyo Winery. With its plywood walls and concrete floor, the place couldn't be more downscale, but the wines are as polished as the vibe is relaxed. Vincent Arroyo is known for Zinfandel and Petite Sirah, with Tempranillo and Bordeaux-style red blends the other strong suits. The winery, run these days by Vince's daughter and son-in-law (though you may see Vincent around), has a significant fan base for its Petite Sirah Port.
Alternative: If you're dying to play the tourist, visit the 107-room medieval-style Castello di Amorosa; if not in the mood for more wine, check out the Sharpsteen Museum, open until 3 pm.
3 pm
Lunch: Backtrack into town to Buster's Southern Barbecue & Bakery, where the tri-tip and pulled-pork sandwiches are among the highlights. Tip: The three-item combo plate with garlic toast and two sides, can easily feed two. If you're not all that hungry, the two-item combo might be enough.
Alternative: Picobar, Solage's casual poolside restaurant, serves Baja-Mexican cuisine with NoCal accents.
4 pm
Stroll or taste: You're supposed to be heading home, but if you're not ready to depart, stroll down Lincoln Avenue and check out the shops. If you're dying to taste more wine, stop by August Briggs Winery tasting room, whose outdoor patio overlooks the Napa River. Among the wines August Briggs produces is a Charbono red from old-vine grapes. Recognizing that most of the Napa Valley's Charbono crop is grown in the valley's far north, the winery bills Charbono as "Calistoga's cult grape."
Dining and Lodging
Calistoga Restaurants Cheat Sheet
Calistoga Lodgings Cheat Sheet
Resources
Calistoga Shuttle provides on-demand door-to-door service you can order on your smartphone (or by calling).
Calistoga Wine Growers has info about member wineries, which include most of the ones mentioned in this itinerary.
Visit Calistoga (1133 Washington St.), the town's official tourism bureau, has brochures, info, and discount tasting passes. If you're visiting between December and the first weekend in February, ask about the Calistoga Winter in the Wineries Passport. Purchase one, and you'll receive tastings at no further charge at more than a dozen wineries, including some on this itinerary.
---
More Napa Valley Itineraries
Downtown Napa in a Day
10 Foolproof Napa Valley Cabernet Tasting Experiences
3 Historic Napa Valley Wineries Day Trip
3 St. Helena Wineries with a Personal Touch
2 Splendid Days in Walkable Yountville
This story first appeared online in 2018; it was most recently updated in 2023.