Top picks in the Napa Valley's premier dining town.
No need to wade through thousands of user reviews to find Yountville's best restaurants. From haute cuisine to comfort food, narrow your search with this handy cheat sheet.
Truly Special
Bistro Jeanty
The country-French facade hints at the classics served within: tomato soup in a puff pastry, sole meunière, coq au vin, croques madame, steak au poivre, mussels (not always with frites), and much more. French $$$
Bouchon
Bistro cuisine à la Thomas Keller, presented with California flair in a lively setting. French $$$
The French Laundry
Thomas Keller's temple to haute cuisine (as of late 2021, $350 per person to start, not counting add-ons and wine) remains a Napa Valley bucket-list staple; reserve a table well ahead (find bookings-release info here). French $$$$
North Block Restaurant
A chef who counts New York City's Momofuku among his credits helms the North Block Hotel's storefront dining spot; the cuisine entices with its intricacy and deft presentation. Modern American $$$
Among Yountville's Best
Ciccio
The owners' ranch supplies much of the produce for their casual restaurant's salads, wood-fired pizzas, and pasta dishes.  Italian $$$
Coqueta Napa Valley
Pintxos (bar bites), tapas cold and hot, and paella and wood-fired meat and fish dishes for pairing with specialty cocktails, sangria, and other perky libations. Spanish $$–$$$
Domaine Chandon
Anything from caviar and beef carpaccio to lobster rolls and pork tacos might appear on chef Juan Cabrera's five-course Epicurean Experience tasting menu at the sparkling-wine house (served during the day when the tasting room is open). You can also order items à la carte to pair with your bubbly. Eclectic $$–$$$$
Mustards Grill
At nearly four decades old, Cindy Pawlcyn's roadside ode to American cuisine still packs them in, and for good reason: the food and drinks are terrific, and the ambience is convivial.  American $$$
Regiis Ova Caviar & Champagne Lounge
Chef Thomas Keller and Shaoching Bishop opened this pop-up to showcase their company's caviar, served solo or accompanying many menu items. Champagne is the featured pairing. Caviar $$$
RH Yountville
Part of a Restoration Hardware complex that includes gallerylike showrooms and a tasting room, the restaurant here serves up a hefty side of glam along with a varied haute-contemporary menu. Modern American $$$
Southside Yountville
Locals' favorite for hip, well-prepared breakfasts (avocado toast, chilaquiles, biscuits and chorizo gravy) and lunches (protein bowls, Cubans, pozole). Modern American $$
Worth Checking Out
Ad Hoc + Addendum
Fried chicken, barbecue, and meatloaf are among the staples at Thomas Keller's casual restaurant serving a family-style four-course prix-fixe menu; from Thursday through Saturday except in winter, pick up fried chicken to go at Addendum. American $$$
Bottega
Soft lighting and redbrick interior set a romantic tone for chef Michael Chiarello's seasonal, farm-to-table, Italy's-greatest-hits cuisine. Italian $$$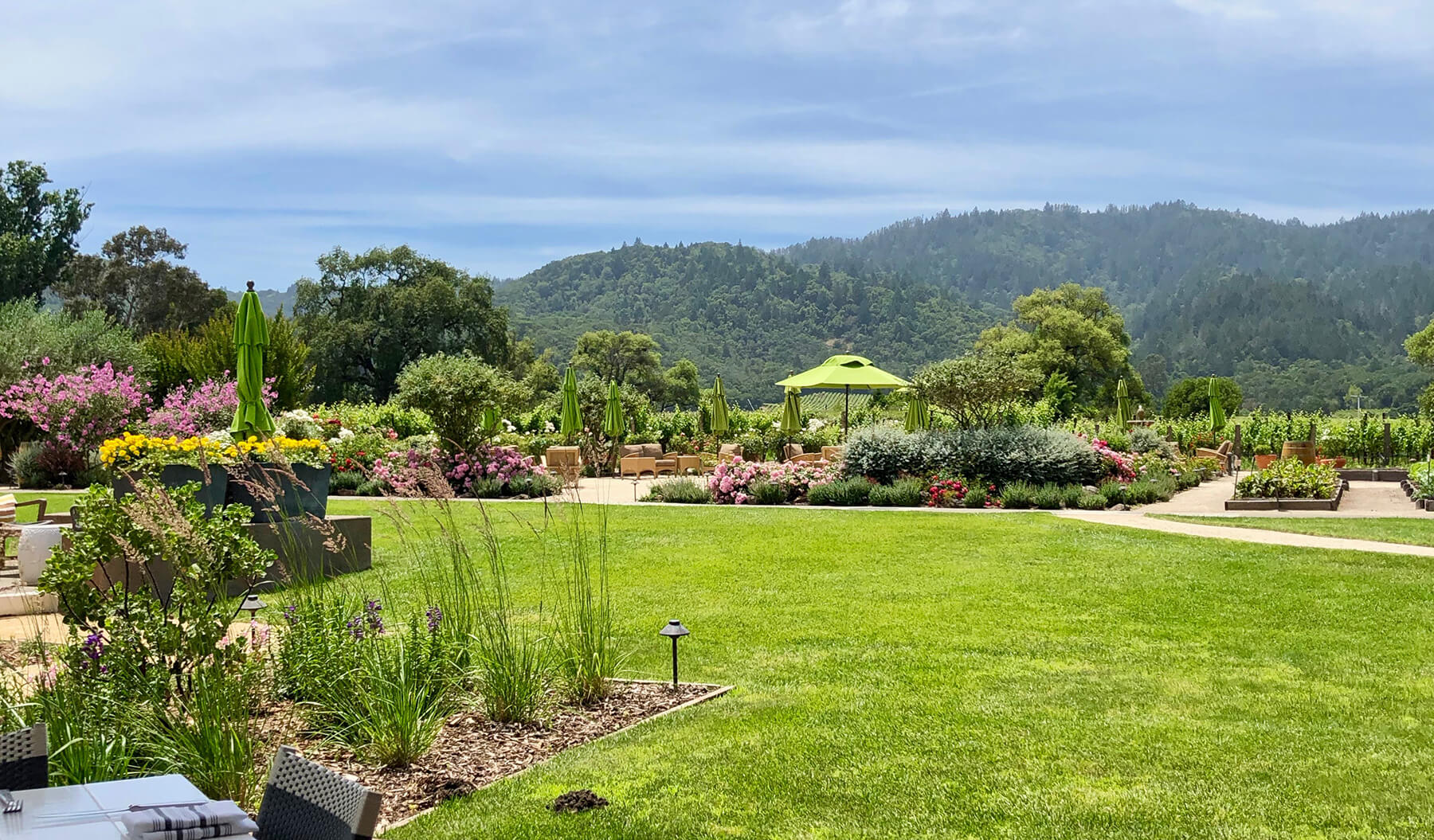 Brix Napa Valley
The Mayacamas Mountains, a rose garden, and 10 acres of Cabernet provide a scenic backdrop for diners enjoying well-executed seasonal cuisine and year-round favorites like the Brix burger.  American $$$
La Calenda
Oaxaca's cuisine inspired this casual Thomas Keller restaurant with a street-side patio good for watching and being watched. Mexican $$
Lucy
Bardessono's culinary garden supplies ingredients for dishes and cocktails at Lucy, the luxury hotel's sleek restaurant and bar. Modern American $$$
R+D Kitchen
The airy restaurant's varied menu tilts American (rotisserie chicken, Carolina-style beef ribs, pan-seared salmon) but also incorporates sushi, Thai noodles, and a carnitas sandwich. American $$
Coffee and Baked Goods
Bouchon Bakery
Excellent stop for pastries, croissants, cookies, and other baked goods.  Bakery $
Mini Model
Pick up baked goods from St. Helena's Model Bakery at its Yountville outpost. Bakery $
---
Napa Valley Itineraries
Downtown Napa in a Day
48 Perfect Hours in Calistoga
10 Foolproof Napa Valley Cabernet Tasting Experiences
3 Historic Napa Valley Wineries Day Trip
3 St. Helena Wineries with a Personal Touch
2 Splendid Days in Walkable Yountville
Daniel Mangin is the author of Fodor's Napa and Sonoma, the coauthor of The California Directory of Fine Wineries, and has written about the Wine Country for Napa Valley Life Magazine, Marin Magazine, and other media outlets.