Founded in 1861, Napa's oldest operating winery has a fascinating history.
The family of the late Peter Mondavi Sr. operates Charles Krug Winery, which bills itself as the Napa Valley's oldest operating winery. Founded in 1861 by Charles Krug, a Prussian immigrant, this respected producer with a fascinating history specializes in Bordeaux-style reds. Winemaker Stacy Clark's 100% Cabernet Sauvignons and blends, many from grapes grown in the St. Helena, Yountville, and Howell Mountain subappellations, are the strong suit along with Merlot. Clark also makes Sauvignon Blanc and a Carneros Chardonnay, but the reds receive the most attention.
Classic Gracefully Updated
The sense of a classic gracefully updated pervades Charles Krug's hospitality center, which occupies the stone and wood Redwood Cellar. Completed in 1874 by Charles Krug, the massive structure received an early-2010s makeover by the firm of architect Howard Backen. The ground floor contains a sturdy wooden tasting bar, comfortable seating areas, a climate-controlled wine library, and, behind two-story windows, a state-of-the-art oak-barrel aging room.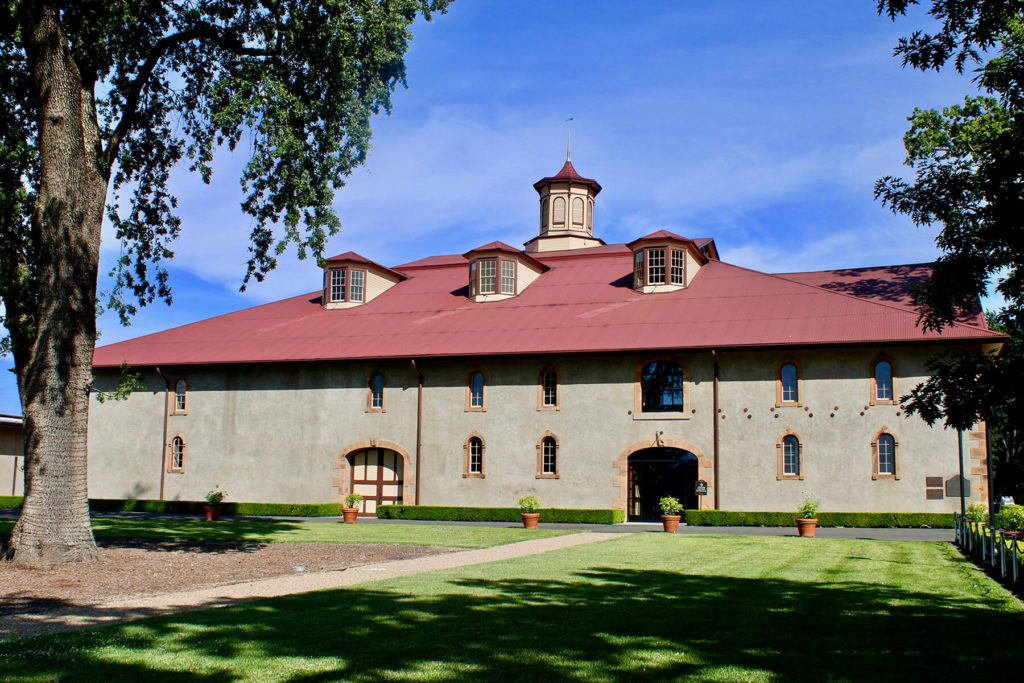 Wine Country Style
Backen, whose winery and other Northern California commissions epitomize Wine Country style, often repurposes materials from spaces he redesigns. At one point the cellar contained 173 mammoth redwood aging tanks that shortly before their removal made a cameo appearance in the 1995 Keanu Reeves film A Walk in the Clouds. For the Redwood Cellar remodel, the architect converted the tanks' wine-stained staves into paneling used throughout the building. One of many historical grace notes, the sole remaining redwood tank stands 19 feet tall in the barrel room. 
Marrying Well
The winery's history originated with Charles Krug, who quickly became one of California's most influential vintners, responsible for innovations in both wine science and marketing. It's worth noting, though, that he owed some of his success to marrying well: the land on which the current winery sits was part of the 540-acre dowry of his wife, Carolina Bale, whose father, Dr. Edward Turner Bale, owned thousands of acres of land in these parts. (Dad also married well – Caroline's mother was the niece of General Mariano Vallejo, who ran Northern California for Mexico in the 1830s and 1840s; parceling out land grants, some of which went to relatives, was one of his duties.)
Enter the Mondavis
Only three families have run Charles Krug Winery during its history. The current ownership dates to 1943, when Cesare and Rosa Mondavi acquired the property for $75,000. From the start Cesare and Rosa involved their sons Robert and Peter, but the brothers often clashed over strategy. By the mid-1960s, disagreements that fueled decades of lawsuits and valley gossip led to Robert's departure to form his own winery. 
Peter Sr., who ran Charles Krug until his death in 2016 at age 101 – his sons Peter Jr. and Marc are now in charge – is credited with introducing several innovations to Napa Valley winemaking. Among them are the use of bladder presses for gentler squeezing of the juice from grape solids; cold fermentation, whose benefits include preservation of a wine's aromas and fruit characteristics; and French oak for aging.  
Tastings, Tours, and Events
The hosts of tours that cover Krug's long history glide over Robert and Peter Sr.'s feud but don't ignore it. Given on weekdays, the tours include a tasting of estate-grown Bordeaux wines. You can also opt for a tasting without a tour. In both cases a reservation is recommended, though same-day appointments for tastings and sometimes tours are possible. In recent years the winery has presented cultural and other events like the monthly stand-up comedy series. 
Why go: Napa Valley's oldest operating winery; fascinating history; high-quality Cabernets.
Stories
Charles Krug appears in 10 Foolproof Napa Valley Cabernet Tasting Experiences.
Info
2800 Main St., St. Helena, CA 94574
---
Napa Valley Itineraries
3 Historic Napa Valley Wineries Day Trip
3 St. Helena Wineries with a Personal Touch
48 Perfect Hours in Calistoga
More St. Helena Wineries
Corison Winery
Halfway to Heaven atop Spring Mountain: Schweiger Vineyards
HALL St. Helena
Louis M. Martini Winery
Stony Hill Vineyard
Tres Sabores Winery
VGS Chateau Potelle
Where to Sleep
St. Helena Lodgings Cheat Sheet
This story first appeared online in 2017; it was fact-checked and updated in 2020.