Healdsburg wine tasting collective showcases Sonoma-based small-production wineries.
About a mile from Healdsburg Plaza along Westside Road, Spanish Mediterranean–style buildings ring the large piazza at Bacchus Landing, an ambitious tasting collective of wineries with Sonoma County connections. Intriguing people and stories are behind these family-run operations, some producing fewer than 1,000 cases annually. Below are descriptions of four of the wineries, with impressions about a wine from each.
Convene
Kosta Browne cofounder Dan Kosta opened a tasting room for his AldenAlli brand in 2021 but in September 2022 rechristened the space as Convene, which focuses on Chardonnay and Pinot Noir blends from the Russian River Valley and the Sonoma Coast. The one constant: winemaker Shane Finley, formerly of Kosta Browne and Lynmar Estate and these days also with Thirty-Seven Winery and his own Shane Wines. The wine reviewed below was tasted in 2021. Update on Convene to follow.
2018 AldenAlli Sonoma Coast Pinot Noir. Grapes from three renowned vineyards (Campbell Ranch, Sunchase, and Gap's Crown) and five clones (777, 115, 828, 667, and 114) went into this beautiful wine, aged in 14% new French oak. Those are the particulars, but the layered, mostly red-fruit flavors and bright acidity are what linger in memory.
Aldina Vineyard
After running Lowrider Magazine for a decade, Al and Dina Lopez sold the publication in the late 1990s and became Sonoma County winegrowers. On a volcanic hillside in what's now the Fountaingrove District AVA, Al planted a few acres of his favorite Cabernet Sauvignon clone (number 7), selling grapes to other wineries before taking the plunge and establishing Aldina Vineyards (first vintage 2012). As a youngster, son Francisco worked in the vineyard with his dad, if not, he admits, with the enthusiasm he shows now. (Al lavished such attention on the vineyard – and still does – that Francisco and his sister, Monica, who founded Bacchus Landing with him and their parents, refer to it as their third sibling.)
Belen Ceja makes the Aldina wines, a Chardonnay, a Rosé of Cabernet Sauvignon, and Cabernet Sauvignon. She acquired some of her wine knowledge via her father, Armando Ceja, winemaker at the well-regarded Ceja Vineyards, with Fresno State University supplying her formal training. The Ceja family's involvement in the Wine Country dates to the mid-20th century, when Belen's grandfathers came to California as part of the Bracero program that brought in seasonal farmworkers from Mexico.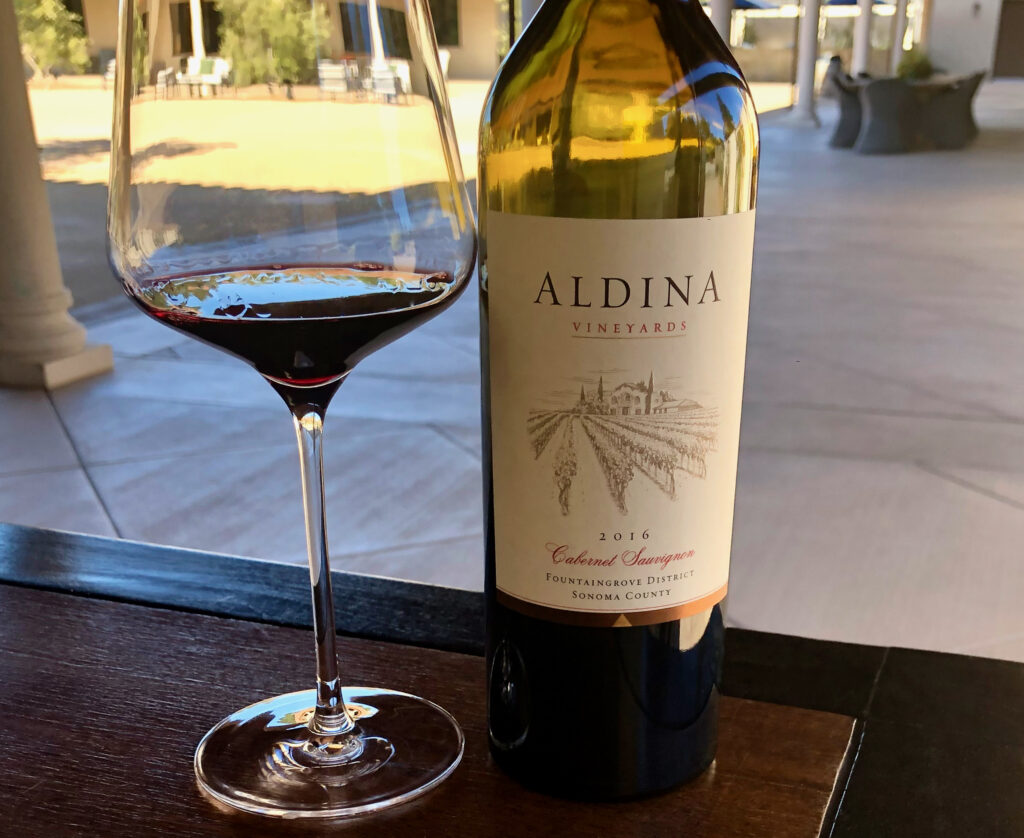 2016 Aldina Vineyards Fountaingrove District Cabernet Sauvignon. Aged 36 months in 80% new French oak, this hillside Cabernet surprises with its reined-in elegance. Still vibrant of fruit at the five-year mark, it represents its appellation well, with spice notes enlivening the predominant pomegranate, cherry, and cherry-cola flavors. Aldina's rosé comes from the same vineyard. 
Dot Wine
Viticulturist and winegrowing consultant Lise Asimont describes Dot Wine as "a labor of love" born of a challenge from her husband, Shawn Phillips, to create the "perfect Pinot Noir." The couple produces several wines from the grape, along with Sauvignon Blanc, two rosés (of Pinot), an upcoming Zinfandel, and a few others.
Because of her farming background – at Francis Ford Coppola, Geyser Peak, Cakebread, and elsewhere – Asimont performs much of her winemaking in the vineyard. She leans toward minimal intervention in the cellar, though she's enough of a stickler that a colleague admitted he thought she was "a whack job" for her fermentation strategy – until the first (2016) vintage of the flagship Lolita Vineyard Pinot Noir, turned out so well.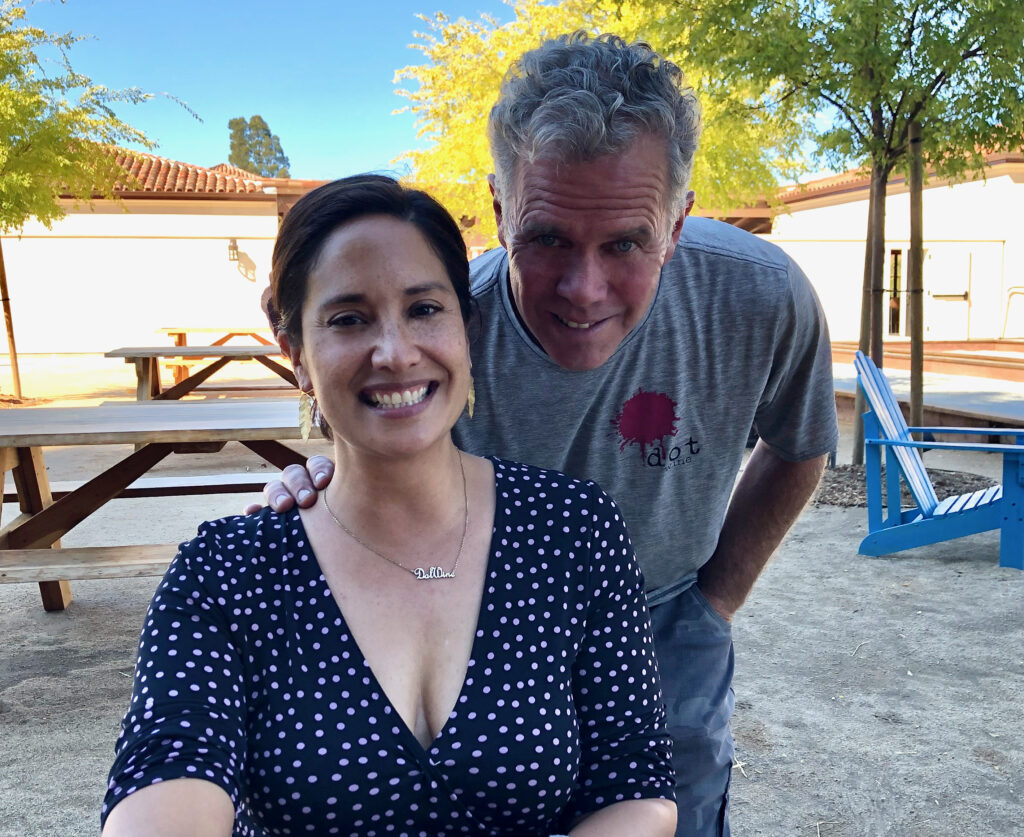 "I make wine like a middle-aged Asian woman," quips Asimont, the daughter of a Filipino mother (her dad's family was from Alsace). "Everything prepped, very clean, not winging it too much."
Asked how she got into winemaking, Asimont replies that as the child of an Asian parent, she was under pressure to become a doctor. She did well in science but wasn't keen to go into medicine. Asimont eventually found her way to the UC Davis Department of Viticulture and Enology, where one of her early mentors, Dr. Andrew Walker, "changed my life," she says, by suggesting viticulture as a focus.
"Our wines are vineyard driven," says Asimont, "the best example we can put forward of what we tasted and smelled in the vineyard that year. We love the vineyards we've chosen and want people to be able to taste them in the glass." Dot Wine tasting experiences with a culinary component, she says, are "heavily curated" to be "representative of my culture," containing "a nod to Asian or Hawaiian cuisine" or at least an ethnic dish. The goal with these pairings, she adds, is to "break the tie of Eurocentric foods" so guests will understand, for instance, "that Lolita is lovely with carnitas; you don't have to have lamb chops."    
2018 Dot Wine Lolita Vineyard Russian River Valley Pinot Noir. Dot Wine's flagship Pinot Noir (from Dijon clone 777) hails from a vineyard owned by Lee Martinelli Jr. and his wife, Pam, in the Green Valley of Russian River Valley AVA. Perhaps owing to its grapes' southern exposure, this Pinot Noir, which isn't as earthy and somber as some from this subappellation, captivates with its floral nose, notes of dark-red fruit, and mild opulence on the finish. Asimont recalls 2018 as a year whose weather made it easy for winemakers to achieve the desired balance of structure and acidity. It shows in this delicious offering.
Update: In late-2021, Dot released the 2019 Lolita, a frisky-out-of-the-gate wine (Asimont describes it with more colorful language) that's got a little more of everything in the 2018 and in all the right proportions.
Montagne Russe
A small winery founded by the current CFO/COO of a large one (Merryvale), Montagne Russe takes its name from the French word for roller coaster. Given the evolution of owner-winemaker Kevin Bersofksy's winery from garage to commercial operation – a tiff with a neighbor led to raid by the feds and Prohibition-style barrel dumping – the name more than applies. To Bersofsky, though, it also signifies the ups and downs of producing each vintage. These connotations notwithstanding, the wines are supremely well composed. 
Single-vineyard cool-climate Chardonnay, Pinot Noir, and Syrah, mostly from family-owned Sonoma County vineyards – La Cruz, Roberts Road, and Terra de Promissio among them – are the focus. Of recent releases, only a Pinot Noir (Santa Lucia Highlands), a Syrah (Mendocino County), and the lone Cabernet Sauvignon (Napa Valley) come from farther afield.
Syrah was Bersofsky's first successful garage effort (he speaks of the grape as his "first love"), but two Pinot Noirs from 2015, his inaugural commercial vintage, received mid-90s Wine Advocate scores, facilitating access to superior sources. 
2018 Montagne Russe Spring Hill Ranch Sonoma Coast Pinot Noir. Spring Hill Ranch Vineyard lies 3½ miles west of downtown Petaluma in a windy section of the Petaluma Gap AVA. From the first sniff, this medium-bodied Pinot projects classic Sonoma forest-floor earthiness that combines with layers of dark cherry-berry flavors to potent effect. The wine has been described as a "Cab-lover's Pinot"; no argument there. 
Epilogue
The wineries discussed above see guests by appointment from Thursday through Monday (a few also on Tuesday and Wednesday). Smith Story Wine Cellars, began pouring in November 2021, and The Setting Wines, a project of Aperture Cellars winemaker Jesse Katz and his friends Jeff Cova and Noah McMahon, opened in March 2022.
Tastings at Bacchus Landing start at $25, with wines also sold by the glass or bottle. There's a market for picking up nibbles, though guests can bring outside food (but not alcohol) and have a picnic in the piazza or a redwoods-shaded area nearer Westside Road. Bacchus Landing presents live music in the piazza on the first Saturday (also noon–4 pm) of most months.
Tip: For $25, you can get a 1-ounce pour at each of the wineries, a good way to find out which one you'd like to explore more in-depth.
Why go: small brands with compelling stories; wines worth seeking out; convenient to U.S. 101 and downtown Healdsburg. 
Info
14210 Bacchus Landing Way, off Westside Rd., Healdsburg 95448
This story originally appeared in mid-2021; it was updated in late 2021 and late 2022.
---
What to Do
Healdsburg Restaurants Cheat Sheet
Sonoma County Vineyard Walk
Sonoma Pinot Noir Day Trip
Healdsburg Wineries
ACORN Winery
Aperture Cellars Winemaker Knows a Lot About the Little Things
Arista Winery
Join the Virtual Parade at Flambeaux Winery
Medlock Ames Tackles Climate Change with Enhanced Vineyard Practices
Two Reds Vie for the Heart at Wine-Food Pairing (Bannister Wines)